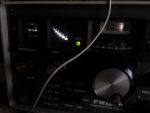 …we're live today from 0700 GMT because of… well, insomnia?
I found the static noise coming from 4625 KHz quite interesting. So I decided to stream just it – radio static noise, with some music.
As usual, our stream will continue 'till 2100 GMT.
Have fun, be safe, stay home.
http://radio.dyne.org/radiocybernet.mp3
[…]